Blackburn with Darwen became a breastfeeding friendly borough in 2017 as part of the healthy weight declaration. Since then we have been going from strength to strength providing much-needed breastfeeding help in Blackburn with Darwen.
UNICEF Gold – Breastfeeding Help In Blackburn That Goes Above & Beyond!
We are so proud to say that our maternity/health visiting/children centres have been awarded UNICEF GOLD Baby Friendly Accreditation – (our maternity services being the first in the country).
BwD Council are fully committed to supporting breastfeeding mums wherever and whenever they need to feed their babies. We want mums in the borough to breastfeed out and about with full confidence. This is why we go above and beyond to provide breastfeeding help in Blackburn with Darwen.
Breastfeeding has many benefits for the long-term health, wellbeing and emotional development of children, so supporting mums in giving their children a great start in life is essential.
The breastfeeding-friendly commitment includes supporting local businesses (including leisure centres, restaurants and shopping centres) and public transport partners to provide environments that welcome and provide the space for breastfeeding mothers.
BwD has a fantastic network of local mums, carers and peer supporters who started the 'BwD Breast Intentions' group on Facebook. We have also developed this network to provide peer support, encouragement, advice and help to new breastfeeding mums.
Breastfeeding Help In Blackburn: Support Groups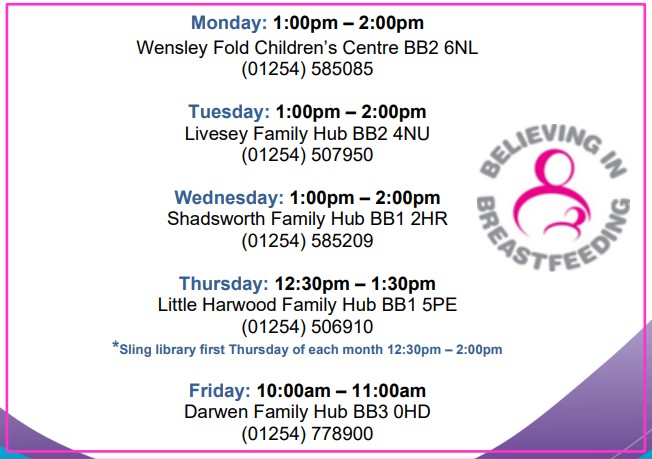 LGC Award
Our Breastfeeding Friendly Borough is an example of award winning collaborative service delivery by BwD Council, ELHT, LSCFT and the mums and their families.
During the period of the pandemic, the Public Health team continued to work with partners to develop the Breastfeeding Friendly Borough work to ensure mums feel supported to breastfeed their baby anywhere in the borough. Early in 2021, the Council demonstrated its commitment to protect and promote breastfeeding across the borough by the installation of permanent signage in two locations. We are the first (and so far the only) local authority in the country to have made this visible commitment.
"You have through passion, commitment and sheer "sticking with it" made a significant change in uptake in breast feeding over a sustained period and in doing so achieved a change in the culture of your council and your area. We strongly encourage you to disseminate the whole story of your work so others can learn from it. "

LGC Award judge
Useful Links For Breastfeeding Help
Looking for breastfeeding help in Blackburn and beyond? To find feeding friendly places click here
For more information about preparing for birth, parenthood and breastfeeding courses click here
Leaflets on how to express milk, feeding twins, information for Dads and antenatal care are available to view on the East Lancashire Hospitals Trust Website here.
"It was like they were talking to me – saying well done keep going – this was important, especially in the pandemic"

A mother in the community on seeing the signs
Related Services