The BwD Help Hub works to support local residents to move forward with their lives in a variety of ways.
The Help Hub work with local organisations who can also offer support for residents for anything, ranging from a prescription picking up to a warm meal. The Step Up Youth Hub is for 16-24 year olds to provide support in finding a job and improving skills needed for employment.
For all residents
Access to food and essentials
Finance, benefits and debt management
Mental health support
Wellbeing and loneliness
Learning, training and employment
Getting online and using technology
Step Up Youth Hub
Careers advice and guidance
CVs, job applications and interview skills
Digital upskilling
Job matching service
Mentoring
Work readiness support
Bespoke support to overcome personal barriers to work.
How to get help
Call 01254 588111 Monday to Friday between 09:00 and 17:00
Step Up team for 16 to 24 year olds can call 01254 588111
For more information and a list of partner organisations, visit the Blackburn with Darwen Borough Council website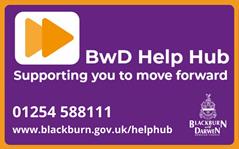 Related Services