Temperature and the health risk's of living in a cold home
The temperature, both indoor and outdoor plays a vital role in determining the health outcomes for people who are vulnerable.
Vulnerable residents living in a cold home risk the increase of respiratory and circulatory condition, cardiovascular diseases, accidental injury though increased falls, and other illness such as arthritis, which are exacerbated by cold and damp conditions.
Evidence shows that living in cold homes is associated with poor health outcomes and an increased risk of morbidity and mortality for all age groups; furthermore, studies have shown that more than one in five (21.5%) excess winter deaths in England and Wales are attributable to cold housing.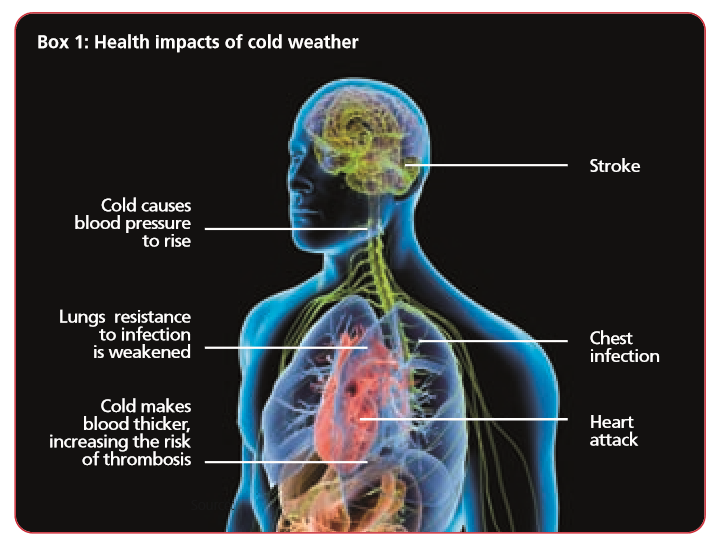 There were an estimated 23,200 excess winter deaths, which occurred in England and Wales in the 2018 to 2019 winter (Office for National Statistics).
The effect of temperature on health
| | |
| --- | --- |
| Indoor temperature | Effect |
| 21° Celsius | Recommended living room temperature. Between 21° and 24° is the ideal living room temperature depending on individual preference |
| 18° Celsius | Minimum temperature with no health risk, though may feel cold. Between 18°and 20° is a comfortable bedroom temperature. |
| Under 16° Celsius | Resistance to respiratory diseases may be diminished. Between 15° and 18° there is a increased risk of respiratory illness. |
| 9–12° Celsius | Increased blood pressure and risk of cardiovascular disease. Between 12° and 15° there is an increased risk of Heart attack and strokes in vulnerable people. |
| Under 5° Celsius | High risk of hypothermia |
Excess Winter Deaths
Fuel poverty can cause many issues and has a close link to excess winter deaths. Around 25,000 more people die over the course of each winter compared to other times of the year and there are a range of conditions worsened by the cold weather — 80 per cent of these deaths are accounted for by people with circulatory diseases (such as heart disease, lung illnesses and stroke), dementia and respiratory diseases (such as asthma).
Exposure to cold indoor or outdoor temperatures increases blood pressure, thereby increasing the risk of heart failure, kidney disease, stroke or dementia. Cold temperatures can also make blood more likely to clot, which can lead to heart attacks and stroke.
In addition, cold can also affect the respiratory system, which reduces the lung's ability to fight off infection explaining why lower temperatures are linked with bronchitis and pneumonia.
Colder weather is not only associated with an increase in deaths but also has a significant impact on the number of people becoming ill, increasing the winter pressures felt by the health care services. Research shows that for every one degree centigrade drop below five degrees in outdoor average temperatures, there is more than a 10 per cent increase in older people consulting their GP for breathing problems, a 0.8 per cent increase in emergency hospital admissions and a 3.4 per increase in deaths.
Increased Falls
Fuel poverty can cause many issues especially with the elderly or health vulnerable. Living in a cold home for people within this category can increase there chances of falls.  As the property gets colder the chances of a heart attack or strokes get bigger and this can lead to falls within the property or even outside. Living in a cold home can have a negative impact on conditions such as arteritis. Stiffness of the joints, lack of circulation and pain can also cause falls within the home. The hospital admission numbers for the elderly who have had falls in the home tend to go up through the winter months. This can put an immense strain on the NHS as well as having a physical and mental impact on the patient.