Fuel Poverty Awareness Week
Fuel Poverty Awareness Day is on Friday 2nd December this year and to raise awareness during Fuel Poverty Awareness Week, there are a series of roadshows planned for the week commencing 28th November. The sessions are supported by the council and our partners: BwD Adult Learning, BwD Food Alliance, Care Network, Cosy Homes in Lancashire, Healthy Living, The Oaks and Shelter.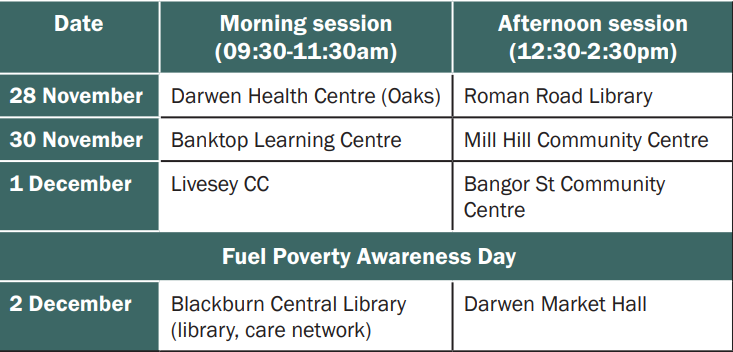 Fuel Poverty Toolkit
Our Fuel Poverty Toolkit is available here and provides information on the how we can reduce fuel poverty as a borough, the impact of fuel poverty and where you can get help.
Household Support Scheme
The Household Support Scheme is currently focusing on those who are not entitled to any other cost of living support (apart from the universal £400 fuel payment). Full details are available via this link and applications can be made online Household Support Scheme | Blackburn with Darwen Borough Council.