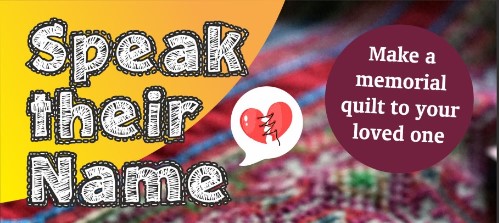 Speak Their Name is a project bringing together bereaved friends and family to suicide, to remember their loved ones through the creation of a memorial quilt.
This group will provide support in a confidential, safe space allowing you to talk, share your experience, whilst creating a quilt to help express your journey of losing a loved one to suicide.
The design of the quilt will be made up of individual squares, each dedicated to their loved one. The creation of the quilt will help to bring connection, understanding and mutual support in a safe and accepting place.
Speak Their Name starts on Wednesday 26th April 2023 6:30-8:30pm and will occur every fortnight after this date.
At the Making Rooms, 1 Exchange Street, Blackburn, BB1 7JN
If you would like more information or to register a place, please ring 07557 495395
Please note, 16-18-year-olds can attend if accompanied by a parent or guardian.
If you require mental health support, including suicide prevention, visit our support pages.