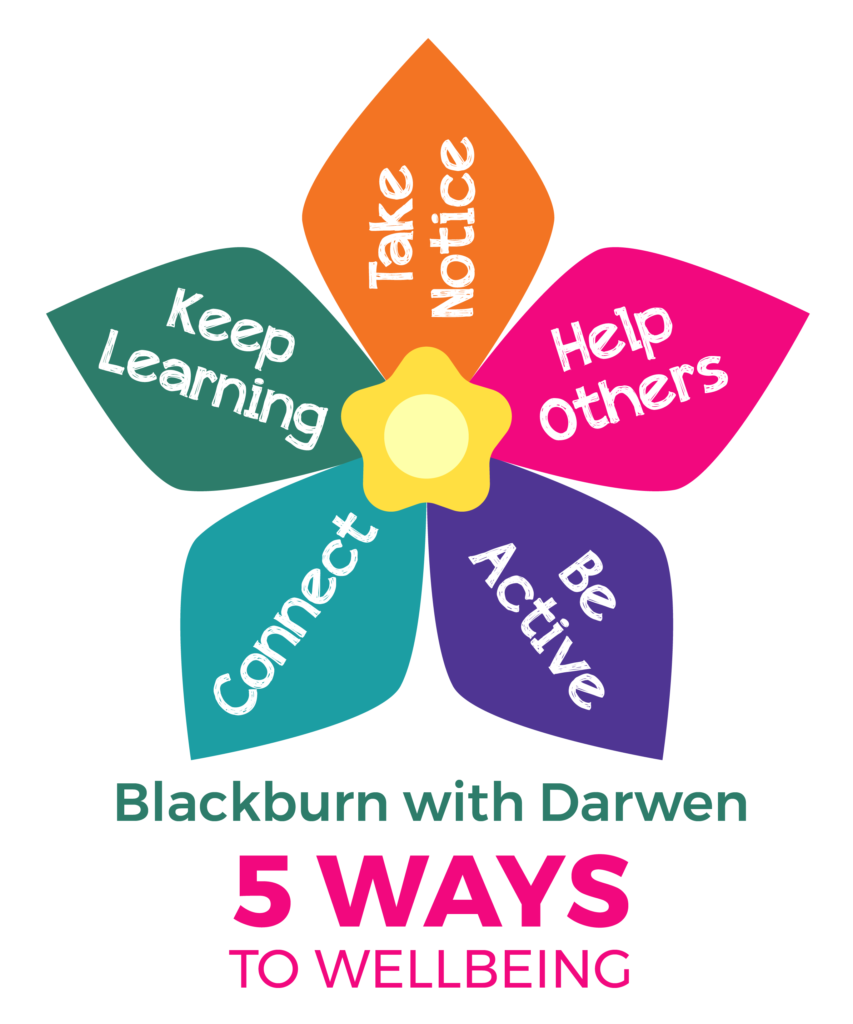 Our Wellbeing is important.
Our wellbeing is our ability to feel good and function well. It includes the positive emotions of happiness and contentment, but also such emotions as interest, engagement, confidence, empathy and affection, the development of one's potential, having some control over one's life, and having a sense of purpose. (Manchester Health and Wellbeing Strategy.)
In Blackburn with Darwen we use the 5 Ways to Wellbeing as a proven formula for keeping our wellbeing on track. (#5waysbwd) The 5 Ways to Wellbeing are simple actions that anyone can take that will have a positive impact on our day to day wellbeing. The Five Ways to Wellbeing are:
-Take Notice
-Keep Learning
-Be Active
-Help Others
-Connect
To help you do this, please find below a list of organisations and services within Blackburn with Darwen that run regular activities and sessions that will have a positive effect on your wellbeing.
Connect
http://blackburnmuseum.org.uk/
Corporation Park Supporters' Group
---
The 5 Ways to Wellbeing isn't new; but it's a proven methodology that can be used to highlight the opportunities and activities that can positively impact our wellbeing.
There is nothing new or surprising in these messages other than knowing that there is substantial evidence to support their value in helping you to live well.
Here's some more information and ideas on how you can engage with the 5 Ways to Wellbeing:
---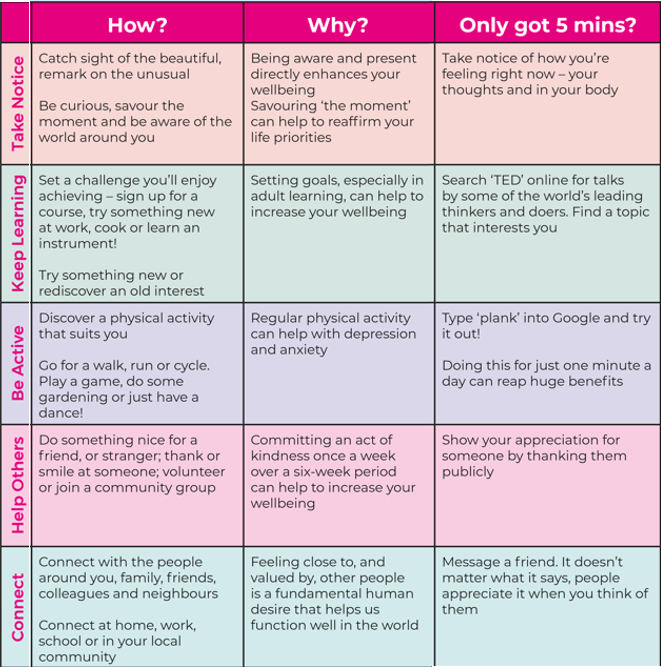 The Importance of Sleep
Sleep helps us to cope with the world around us, regulate our emotions and to interact with others. Poor sleep quality and quantity are associated with a range of mental health problems. Improvements in sleep problems can help to improve mental health conditions. It is important to value and protect your sleep and if you need to improve your sleep, please look at these self-help resources below:
Togetherall-(an online, mental health and wellbeing platform) for BwD residents to access 24/7. They have a course dedicated to improving your sleep as well as lots of tools and resources about how to improve your mental wellbeing. Visit their website here. 
The Sleep Charity– produces a wide range of evidence-based information on all aspects of sleep from triggers to treatments. Visit their website here.
The Teen Sleep Hub– 68% of teenagers don't get enough sleep on a school night. For advice about improving the sleep of teenagers, click here.
 The Mental Health Foundation released a report in October 2020 called, 'Taking Sleep Seriously: Sleep and our Mental Health.'
Related Services