Help With Healthy Eating In Blackburn 
It is no secret that maintaining a healthy diet is crucial for the overall health of everyone, regardless of their background. A balanced diet can help prevent chronic diseases, boost your immune system, and improve your energy levels. However, we know that a healthy diet doesn't looks the same for everybody. In a diverse community like Blackburn with Darwen, it's important for us to give healthy eating advice to suit different cultural preferences and dietary needs. If you're looking for help with healthy eating in Blackburn, this guide is for you! Here, we will provide you with valuable information and resources to help you lead a healthier lifestyle.
No matter which culture we consider ourselves a part of, it's important for us all to make thoughtful choices to nourish our bodies with the right nutrients. While the specifics of a balanced diet might change, the basic elements stay the same.
As part of Be Well BwD, we provide information and resources on both the Eat Well Guide and Recipe 4 Health. Let's explore those campaigns here in our guide.
Eat Well Guide
By changing how we feel about food, we take control of our health and wellbeing. The key to achieving good health is to eat a balanced diet and stay active.
The Eat Well Guide shows us exactly what consists of a healthy, balanced diet.
It gives us examples such as eating 5 portions of fruit and vegetables a day in order to get the right amount of minerals, vitamins and fibre we need to stay healthy. In fact, fruit and veg should make up just over a third of the food we eat each day. Another third of our diet, according to the NHS' Eat Well Guide should be made up of starchy foods such as wholewheat pasta and brown rice. Another tip is to simply leave the skins on your potatoes!
We should aim to eat less red and processed meats and instead focus on lean meats and fish to get the correct amount of protein. Aiming for at least 2 portions of fish every week is a good goal to have when eating well. Pulses, such as beans, peas and lentils, are good alternatives to meat for those who opt for meat free diets.
Foods such as milk, cheese, and yoghurt are all part of our 'eat well plate', offering a good source of protein and vitamins and an important source of calcium, keeping our bones healthy.
Fats are an essential part of a healthy and balanced diet. We should aim to eat unsaturated fats as a healthier alternative. This includes fats such as vegetable, rapeseed, olive and sunflower oils. These unsaturated fats are particularly high in energy.
Foods high in salt, sugar and saturated fats, such as fizzy drinks and sweet snacks, although tasty, are not needed in our diet, so should be eaten less often and in smaller amounts.
Also as part of the Eat Well Guide, we get information regarding how much to drink in order to be at our healthiest – it isn't just about food! The NHS recommends 6 to 8 cups or glasses of fluids a day. This includes water, lower-fat milk, lower-sugar or sugar-free drinks, tea, and coffee. Fruit juices and smoothies can contain sugars that can damage oral health and so they should be limited.
When we talk about the Eat Well Guide, we refer to the 5 sections of the plate that make up a balanced diet. Sure, it may not be achievable to 'eat well' (by this we mean to incorporate the right amount of each food group) in every single meal, but in order to achieve overall good health, it's important to try and aim for this throughout your day or week.
As part of the Eat Well Guide, we understand that on average, women should have around 2,000 calories a day, with men needing to consume around 2,500 calories a day.
The Eat Well Guide applies to most people, despite our weight, whether we eat meat or are vegetarian, or our ethnicity.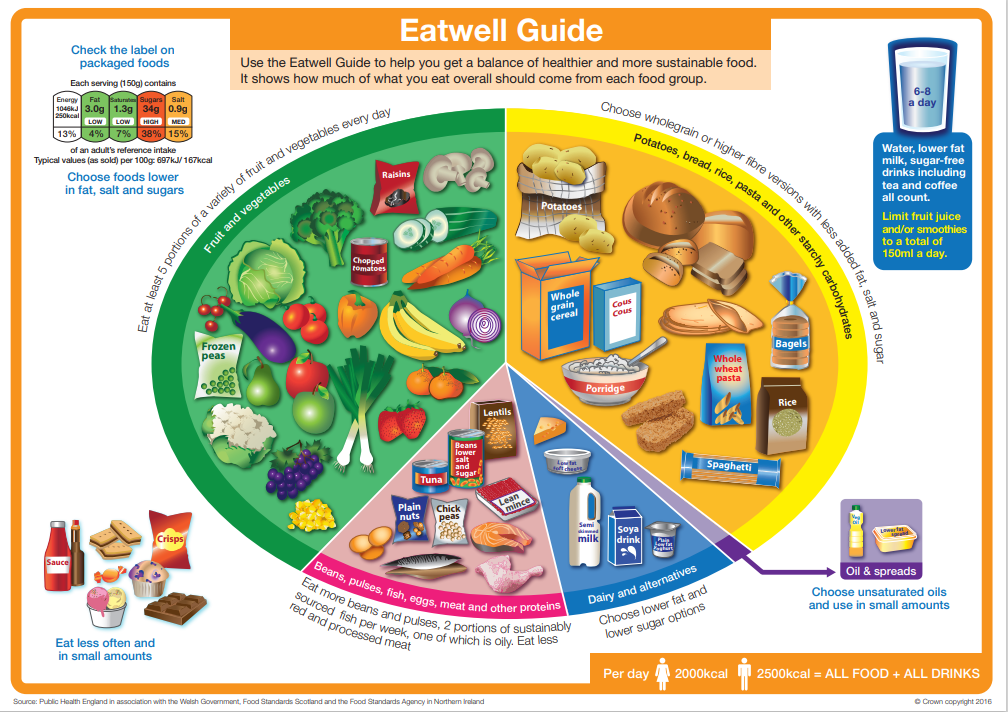 Eating Well: Southern Asian Community In Blackburn With Darwen
We feel it is really important to acknowledge that 46% of Blackburn with Darwen is Southern Asian. Due to this, the 'healthy eating plate' may look slightly different to a large portion of our community.
There are certain tips on offer at Be Well BwD, specifically aimed at those who are part of the South Asian culture and are aiming for a healthier lifestyle.
Many of the traditional South Asian dishes can be made healthier diet with a few changes such as using lean meats like chicken or turkey or introducing plant-based proteins like lentils and chickpeas in your curries.
Making dishes with less oil and replacing heavy creams, which features in many curries, with yoghurt can create a healthier version of traditional cuisine.
Another way that South Asian dishes can be made healthier is by choosing whole wheat roti (chapati) over white flour versions and considering brown rice. These options provide more fibre and nutrients, further working towards achieving good health in our diets. Having a variety of vegetables in South Asian dishes, like leafy greens, bell peppers, carrots, and more enhances the nutritional value.
Spices play an important role in the rich flavours which are popular in Southern Asian dishes. Not only do they add delicious flavours but they can also incorporate additional health benefits to meals.
Turmeric is a staple in many dishes and is also known for its anti-inflammatory properties.
Cumin is a spice that aids digestion and can be used to season a variety of dishes, from lentil soups to roasted vegetables.
Cardamom is another popular spice and a measurement as small as ½ teaspoon can have beneficial effects such as lowering blood pressure.
By embracing traditional foods while making mindful changes, everyone can enjoy the benefits of a balanced diet. It is important to note that healthy eating is not about restriction but about making choices that contribute to your overall well-being.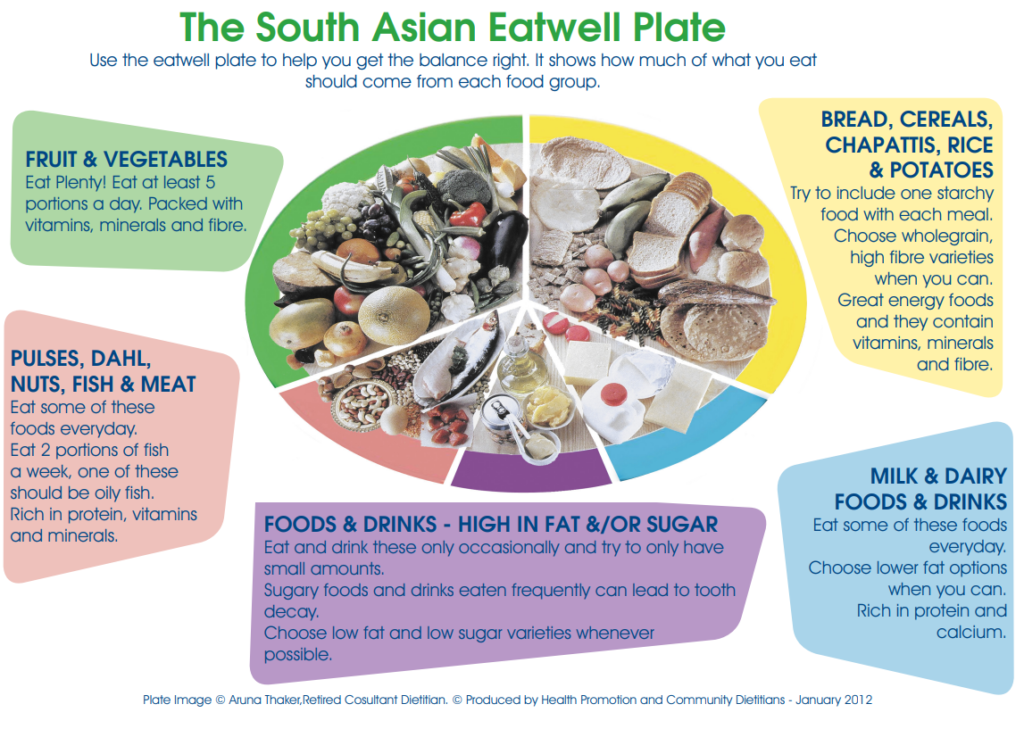 Recipe 4 Health
Recipe 4 Health is an award within the local area that recognises food businesses within the community. The food businesses recognised by the Recipe 4 Health award not only promote healthy eating but also recognise environmental issues and their social responsibility in benefitting people's health. Schools and nurseries within the community can also be put up for the award.
Recipe 4 Health considers a number of categories:
Cleanliness – is the food safe to eat?
Fairness – is the food accurately described?
Allergen awareness
Alcohol awareness
Healthy eating

Environmental focus – does the business get rid of waste responsibly and make an effort to reduce food miles?
Food businesses are able to apply for the Recipe 4 Health award to showcase their commitment to providing healthy options to their community.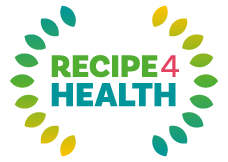 Tips For Healthy Eating In Blackburn
For those living within the Blackburn with Darwen community, there are multiple tips we have at Be Well BwD that can help with healthy eating in Blackburn.
Plan your meals: Planning meals for the week ahead means you are more likely to avoid unhealthy options.
Shop mindfully: Make a shopping list before shopping for groceries or visiting your local food businesses.
Cook at home: Cooking at home, as much as possible means you have control over the ingredients you use and therefore how much of the 'Eat Well' plate you incorporate.
Stay hydrated: Drink plenty of water throughout the day. Water is essential for digestion, metabolism, and overall health
Mindful eating: Pay attention to when you feel hungry and full.
Getting Support In Blackburn
If you're looking for specific support when it comes to healthy eating, Be Well BwD has a wide range of services on offer to help the local community. Our services can help provide advice based on your individual needs and health goals.
By using local resources, and making choices guided by the knowledge of Eat Well and knowing where Recipe 4 Health awarded businesses are in your local area, you can improve your overall health and enjoy the benefits of a balanced diet.
If you would like more information about the resources on offer to the Blackburn with Darwen area, that promote healthy eating, feel free to contact a member of the Be Well BwD team today.
You can reach us by calling 01254 585570 or emailing publichealthadmin@blackburn.gov.uk.